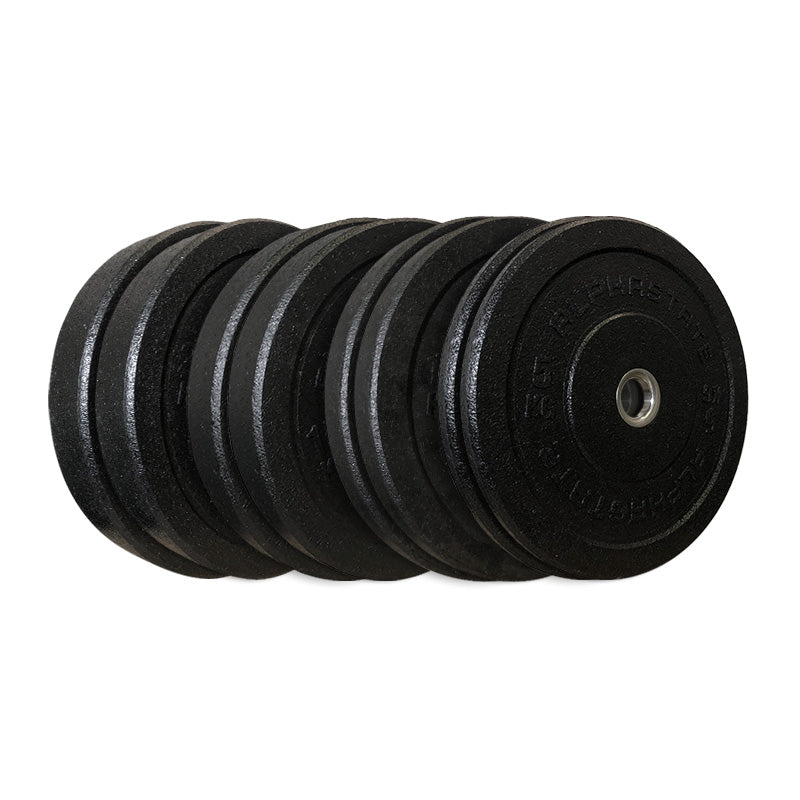 AlphaState Hi-Temp Bumper Plate Set
AlphaState Hi-Temp Bumper Plate Set

Sold in a set: 2 x (5, 10, 15, 20kg) plates

Manufactured from nearly indestructible recycled vulcanized rubber and sporting a stainless steel insert, Hi-temp bumper plates are an ideal addition to your weight- training arsenal. With a much softer surface than that of HG Bumpers, Hi-temp bumpers are a lot easier on your bar!

These heavy-duty bumper plates are perfect for high levels of use. Their durability means that these bumpers are a sound investment for Cross training, functional fitness facilities, home and garage gyms. The high-quality recycled rubber is designed to stand up to daily abuse, making these bumper plates perfect for Olympic weightlifting, Powerlifting and high-rep barbell workouts.

Hi-temp bumpers feature a standard 450mm diameter and their low dead-bounce means that they are safe to thrash around during workouts. The low, quieter bounce, also means less wear and tear on your bumper plates, the Olympic bar, gym flooring or lifting platform. The durable stainless steel collar offers a snug fit and ensures minimal shift during use. These bumper plates are dependable, eco-friendly and a great buy for anyone looking for the best quality high-use bumper plate on the market.